Henry Buhl Library Additions & Renovations at Grove City College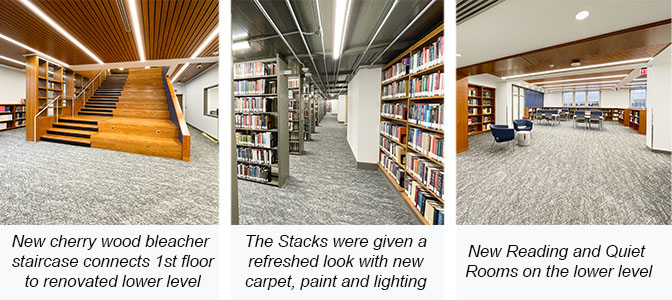 Phase III of the Henry Buhl Library Addition & Renovation Project at Grove City College has reached  a pivotal milestone with the recent completion of the cherry wood bleacher staircase designed by PWWG and CJL Engineering.  Upon entry to the library, visitors will be greeted with this contemporary new feature that invites you to enter the renovated spaces in the lower level.
Landau Building Company is serving as the Construction Manager for the 29,000 SF project.  Newly renovated spaces include the addition of group study and classroom space, a new reading room, updated stacks, a café, lounge and patio. State-of-the-art technology and abundant power sources for student computing is also included.  The four phase project was started in May of 2021, and is slated for completion in August 2022.  The library has remained open during construction and the Landau team is excited for the Spring Semester 2022 return of students, faculty, and staff of Grove City College.