Landau Building Company Welcomes John Solomon as Project Engineer
Landau Building Company, a full-service construction company serving Western PA and the surrounding region for over 130 years, today announced John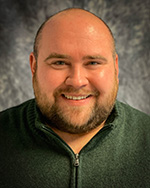 Solomon has joined the company as Project Engineer.

John joins the Landau team from Behrens & Associates, an environmental noise control company. John oversaw their Northeast Territory as an Acoustical Sound Meter Technician.

John will be responsible for assisting our team of project managers with submittal management and schedule preparation, while working with superintendents, subcontractors, and suppliers. In his new role, John will be working closely with Senior Project Manager Jeremy Bowlby on several of his upcoming projects. "We're really looking forward to having John become an integral member of our team," said Jeremy Bowlby, Sr. Project Manager. "His unique skill set will allow him to hit the ground running in a cohesive and effective manner."

As an alumnus of Indiana University of Pennsylvania, and a former resident of Asheville, North Carolina, John currently resides in his hometown of Pittsburgh, PA.