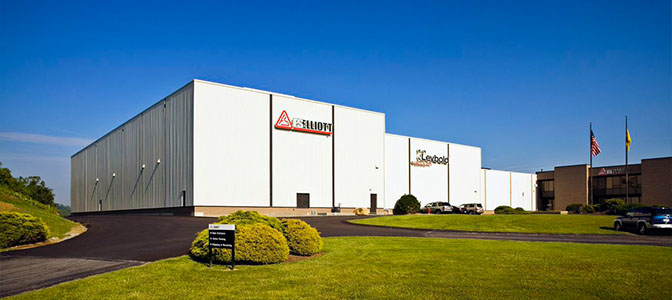 F. S. Elliott Company, LLC.
Project

:

16KSF Hi-Bay Expansion

Owner

:

F.S. Elliott Company, LLC

Location

:

Export, Pennsylvania

Architect

:

Moore Consulting, Inc. Architects
This addition to the F.S. Elliott Company's existing manufacturing facility is 15,600 square feet by 36 feet high. Two 40 ton cranes and two 10 ton cranes are housed in the new hi-bay manufacturing facility. Landau Building Company had four months to complete construction. The foundations needed to be six feet deep to form massive concrete pads for compression test labs; extensive excavating work was needed to remove the solid rock encountered just below the surface. By the end of the project, 725 cubic yards of concrete had been poured. There are eight pads averaging 320 square feet by 5 feet deep. After the job started, a new 3,100 square foot crane way building was added to the scope of work. Additionally, a new access road was built because the expansion was constructed on the former access road. Many of the construction phases overlapped. For example, the structural steel was erected while excavation work was performed. As a result of fast-tracking the project was completed on time.