Tag Archives for
Mario Lemieux Center for Blood Cancers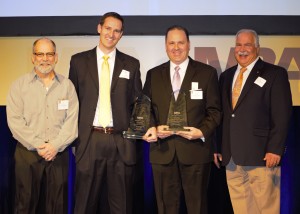 We have some exciting news to share!
Landau Building Company is the winner of two crystals from the 2014 MBA Building Excellence Awards!  This is the first time Landau has taken home two awards in one year, and we couldn't be more  proud of our team.  The Jefferson Oncology and Women's Health Centers won for Best Project over $10 million, and the Mario Lemieux Center for Blood Cancers won for Best Project under $10 million.  Project Manager Skylar Van Soest and Superintendent  Keith Kalmbach, who worked on both projects, accepted the awards on Landau's behalf, along with architect David Wells from Radelet McCarthy Polletta and representatives from the owners. Our other superintendents on the job were Emory Lukacs, Dave Prata, Jonathan Muzina, and Larry Massung.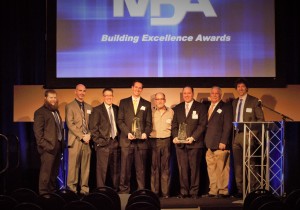 The Evening of Excellence is one of the biggest construction industry events of the year, and it did not disappoint.  More than 1,000 professionals  attended the event at Heinz Field to honor or be honored by the MBA.  The Trib Total Media wrote a great article about the event, featuring the "big winners" of the night.  You can read the article here: http://bit.ly/1wEIcyc.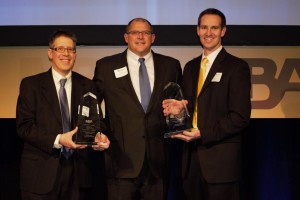 Congratulations to all of the nominees and winners of the 2014 MBA Awards.  It is always very competitive. Everyone deserves to be recognized for their hard work and the quality of projects produced. For more photos, check out our Facebook album: http://on.fb.me/18WxffO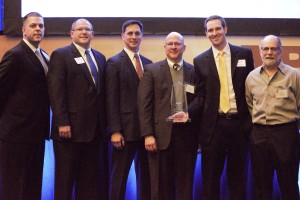 We have exciting news! Landau Building Company is shortlisted for two MBA Building Excellence Awards! Our Jefferson Regional Medical Center project is the finalist for Renovations Over $10 Million, and the Mario Lemieux Center for Blood Cancers is a finalist for Renovations Under $10 Million.  Jefferson's $15 million project transformed existing office spaces into a beautiful new cancer treatment center and women health centers.  Our project team worked tirelessly to complete this project as scheduled, putting great detail into the finishing touches.  While working on the Lemieux Center, we collaborated with the Mario Lemieux Foundation to produce a stunning area where patients can feel relaxed and at home during a time of uncertainty. And thanks to additional donations from the Lemieux Foundation, a striking rooftop terrace, complete with putting green, was added as a focal point for the treatment center.
So come join us on Thursday, February 26th at the MBA's Evening of Excellence to find out what happens! This annual event celebrates our hardworking industry members and showcases some of the best work in the region. We are honored to have been selected, and we are so proud of our Landau team. It's sure to be a great night!
For more information about the MBA's evening of Excellence, click here: http://bit.ly/1wJrYgk