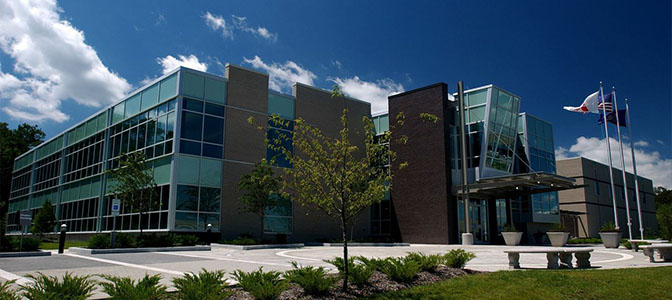 Mitsubishi Electric Power Products, Inc.
Project

:

New Headquarters

Owner

:

Mitsubishi Electric Power Products

Location

:

Warrendale, Pennsylvania

Architect

:

Burt Hill
2004 MBA Project Excellence Award Finalist
This new Mitsubishi Electric Power Products' building boasts sharp architectural features in its 33,000 square foot headquarters building and 14,000 square foot warehouse. In the initial stages of pre-construction, Landau Building Company immediately provided construction cost refinements and value engineering to meet the budget constraints. Special attention was given to maintaining a high level of finish materials, environmental conditioning, and technology. The project's progression was dictated by a strict schedule and Mitsubishi's move-in date. Early installation of office furniture and A/V equipment was facilitated by the sequence of work from office to warehouse. Landau also completed most of the site work and paving before the building was out of the ground. The construction schedule was maintained by placing a binder course down before the winter, which resulted in an extremely clean construction process. High-tech, state-of-the-art audio-visual equipment was installed, as well as computer LCD equipment used for scheduling called "Room Wizards." The building includes exposed ceilings in the hallways for voice and data cabling, track lighting that meets environmental requirements, canted interior walls, and a flat concrete floor finish in the warehouse. Mitsubishi's headquarters incorporates distinctive architecture, environmentally-friendly building practices, and craftsmanship well above industry standards.