Tag Archives for
Bishop Michael J. Bransfield Continuous Care Center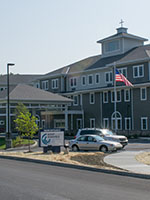 Marks-Landau Construction, a wholly owned subsidiary of Landau Building Company, is pleased to announce the completion of the $23.1 million Wheeling Hospital Continuous Care Center in Wheeling, WV.
The new 106,330 SF, three-story nursing facility replaces the smaller care center that was adjacent to the hospital.  The building consists of 144 private resident rooms, country kitchens with restaurant-style dining areas on each floor, family/patient lounge areas with televisions and fireplaces, chapel, activity rooms, therapy gym, bathing spa, clinical support spaces, hair salon, and a commercial kitchen that supplies the building's food service venues. Because of its location on the hilltop behind the hospital, many rooms offer beautiful views of the West Virginia mountains.
One of the main design goals was to create a more residential atmosphere that would make occupants feel more at home. The owner was extremely pleased with how the design and construction goals came together and has already received multiple compliments on the facility.
Residents were welcomed on Friday, July 27th.