Bayer Medical Care Area 200 & 400 Renovation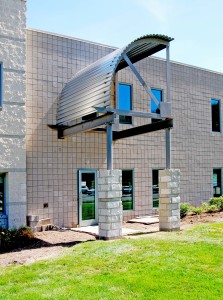 Landau Building Company finished renovations to Bayer Medical Care areas 200 & 400, located in Indianola, PA. The 14,000 SF interior fit-out transformed the existing research labs into executive offices. The project began May 2014 and finished October 2014. Labs were demolished to create space for offices as well as cubicles and new bathrooms. High-end finishes, like quartz countertops, were used in the bathrooms and showers, and a new canopy entrance was constructed to service the new office areas.
Landau expedited construction in just five months by maintaining a full-time superintendent on site. Particular attention was given to not disrupting ongoing operations at Bayer. Normal construction concerns, like noise, debris, material deliveries, and subcontractor management, never became an issue. The project incorporated Bayer material science products and had mechanical, electrical, and plumbing design-build features to streamline construction and adaptability to the existing systems.
Throughout the past two-and-a-half years, Landau has completed five projects with Bayer. Bayer's project manager awarded Landau with an excellent rating for professionalism, quality, and value. Safety considerations continue to be a fundamental concern for everyone involved. Landau partners with trusted and qualified subcontractors to deliver quality and safe work repeatedly for Bayer.