Landau Building Company Welcomes Derek Thompson as Project Engineer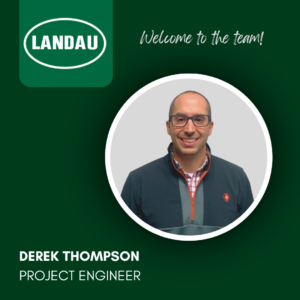 Pittsburgh, PA – January 25, 2023 – Landau Building Company, a full-service construction firm serving Western PA and Northern WV, is pleased to announce Derek Thompson has joined the company as Project Engineer.
Derek entered the construction industry in 2016, having previously led the preconstruction initiatives as a project manager for a national general contractor. Derek brings Landau a substantial understanding of budgeting and cost estimation in addition to the project management process.
"Derek's construction experience and enthusiasm has allowed him to hit the ground running on some of our larger projects," said Jeffrey Landau, President of Landau Building Company. "We look forward to seeing him excel in this new position as project engineer."
In this role, Derek will work closely with our project managers and superintendents while keeping all construction documentation up to date during each phase of the project. Derek is also OSHA 30 certified and is currently working on several healthcare projects in PA and WV.
About Landau Building Company
Over the last 130 years, Landau Building Company has grown into one of the leading construction management and general contracting firms serving Western PA and the surrounding region. Now in its 5th generation, the family-owned and operated company has developed a broad portfolio of institutional, commercial, and healthcare projects ranging from ground up construction to major renovations and restorations. In 2006, Landau Building Company expanded its services to include the northern West Virginia area when it created the subsidiary Marks-Landau Construction.
Landau specializes in delivering quality construction services for complex building projects from our talented team of problem solvers, who are eager to dedicate the necessary time and attention that each project deserves. Whether it's finding time and/or cost savings in the preconstruction phase or monitoring the quality and coordination of work carried out through the construction phase, we are confident that selecting Landau Building Company will generate the best value for your project. To learn more information about why so many top corporations continue to call upon Landau Building Company as their builder of choice, visit our website www.landau-bldg.com.
Media Contact
Jamison Vernallis
Landau Building Company
724-935-8800