Landau Building Company Welcomes Nicoletta Harrington as Project Manager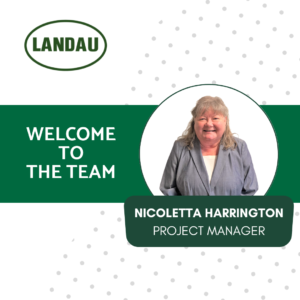 Pittsburgh, PA – November 30, 2022 – Landau Building Company, a full-service construction company serving Western PA and Northern WV for the last 130 years, is pleased to announce Nicoletta Harrington has joined the company as Project Manager.
Nicoletta, 'Nicki', has been involved in the construction industry since 1982. She carries a wealth of experience having worked for developers, building management firms, architects, and general contractors throughout the Pittsburgh region. Nicki offers a unique AEC perspective, having gained experience working both as a construction manager, estimator, and project manager. She views the business from every angle and applies this knowledge to developing successful solutions.
"We are so pleased to welcome Nicki to the Landau Family," said Jeff Landau, President of Landau Building Company. "Her years of industry experience combined with her comprehensive understanding of the construction and design world will make for a valuable asset to the team and our clients."
As project manager, Nicki will be leading several of our institutional projects including renovations to the historic Benedum Center for Performing Arts, Sewickley Public Library, and the Sewickley Presbyterian Church.
About Landau Building Company 
Over the last 130 years, Landau Building Company has grown into one of the leading construction management and general contracting firms serving the Western PA and Northern WV region. Now in its 5th generation, the family-owned and operated company has developed a broad portfolio of institutional, commercial, and healthcare projects ranging from ground up construction to major renovations and restorations.
Landau specializes in delivering quality construction services for complex building projects from our talented team of problem solvers, who are eager to dedicate the necessary time and attention that each project deserves. Whether it's finding time and/or cost savings in the preconstruction phase or monitoring the quality and coordination of work carried out through the construction phase, we are confident that selecting Landau Building Company will generate the best value for your project. To learn more information about why so many top corporations continue to call upon Landau Building Company as their builder of choice, visit our website www.landau-bldg.com.
Media Contact
Jamison Vernallis
Landau Building Company
724-935-8800