Promotion – Doug Brenneman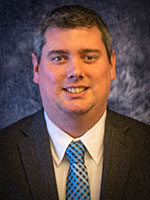 Congratulations to Doug Brenneman on his promotion from Project Engineer to Project Manager!
Doug started at Landau in 2014 as a Project Engineer and quickly became an asset to the company. He transitioned into the Estimating department for a time where he gained an understanding of the preconstruction process. This further strengthened his skills when he returned to project engineering and now enhances his abilities as a Project Manager. Doug has assisted on some of Landau's largest projects, including the $23M Bishop Michael J. Bransfield Continuous Care Center, the $15M United Hospital Center Orthopaedic and Spine Center, the $7M Robert Morris University School of Nursing, and various others.
In his spare time, Doug is an avid hunter and camper.