Topping Off Ceremony at United Hospital Center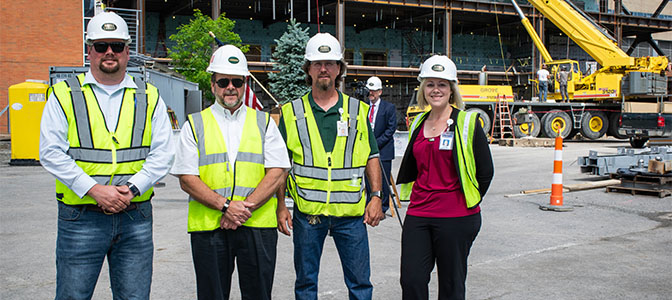 On June 14, 2021, Marks-Landau Construction held a "Topping Off" ceremony to celebrate the placing of the final beam of the United Hospital East Addition. This is a milestone in the construction of a 6 story, 40,023 SF addition to United Hospital Center located in Bridgeport, WV. Michael Tillman, Chief Executive Officer and President at United Hospital Center, gave a short speech. Following tradition, the beam was signed by stake holders and staff then an evergreen tree and the American flag was placed on the beam to be lifted.
Project Manager Doug Brenneman, Project Engineer Lindsey Bernazzoli and Superintendent Jonathan Muzina began the project in March 2021. Construction is anticipated to be complete in 2022. Nashville architectural firm Gresham Smith is the designer.