And the Winner Is…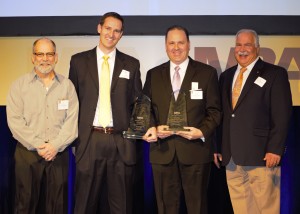 We have some exciting news to share!
Landau Building Company is the winner of two crystals from the 2014 MBA Building Excellence Awards!  This is the first time Landau has taken home two awards in one year, and we couldn't be more  proud of our team.  The Jefferson Oncology and Women's Health Centers won for Best Project over $10 million, and the Mario Lemieux Center for Blood Cancers won for Best Project under $10 million.  Project Manager Skylar Van Soest and Superintendent  Keith Kalmbach, who worked on both projects, accepted the awards on Landau's behalf, along with architect David Wells from Radelet McCarthy Polletta and representatives from the owners. Our other superintendents on the job were Emory Lukacs, Dave Prata, Jonathan Muzina, and Larry Massung.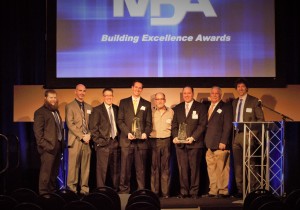 The Evening of Excellence is one of the biggest construction industry events of the year, and it did not disappoint.  More than 1,000 professionals  attended the event at Heinz Field to honor or be honored by the MBA.  The Trib Total Media wrote a great article about the event, featuring the "big winners" of the night.  You can read the article here: http://bit.ly/1wEIcyc.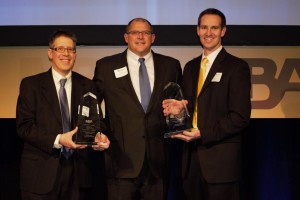 Congratulations to all of the nominees and winners of the 2014 MBA Awards.  It is always very competitive. Everyone deserves to be recognized for their hard work and the quality of projects produced. For more photos, check out our Facebook album: http://on.fb.me/18WxffO